Tamara Vlastelica Bakić Named the Best Young Manager in 2014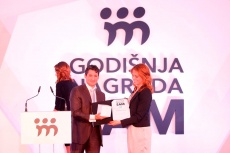 The Serbian Association of Managers (SAM), a national organization that brings together over 300 renowned professionals from various fields of business, presented the annual awards in 11 categories on Monday, December 15th.
The first prize in the category of The Best Young Manager in Serbia in 2014 was awarded to Tamara Vlastelica Bakić, the Advisor to the CEO for Corporate Communications of the Victoria Group. In addition to the many years of her successful career, among the criteria for awarding her this prestigious award were her creativity, innovation and vision, as well as her involvement in projects promoting corporate social responsibility and intersectoral cooperation, as well as her active membership in various business associations.
Among the winners were also Fiat Automobiles Serbia, Petroleum Industry of Serbia (NIS), CBRE Serbia, PWC Academy, Faculty of Organizational Sciences (FOS) in Belgrade, Živorad Vasić, director of the "Crowne Plaza" hotel, Radojka Nikolić, the founder and the owner of the "Ekonometar" and "Magazin Biznis" magazines, and Vesna Damnjanović, associate professor at FOS. The regional project that contributed the most to promoting the region as an investment destination was the "Super Card" project, whereas journalist Mirjana Milosavljević was awarded  the special award for the humane act of the year. The awards ceremony was attended by over 250 guests from the economic, political, cultural, and media spheres. This event intends to improve the business environment for managers, to professionalize the managerial profession, as well as to affirm the companies, institutions and individuals who advocate for better business conditions and influence the development of society in Serbia.