Victoria Logistic and Sojaprotein introduce Danube Soya Standard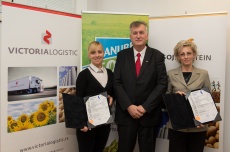 Victoria Logistic and Sojaprotein received the Danube Soya certificate for the successful implementation of the European standards for the cultivation and processing of non-GMO soybeans, realized early in December. The audit related to the certification process was conducted by SGS, an authorized auditing company, and the representatives of the two companies officially received the certificates from Jovan Zagorac, the Manager of the Agricultural Sector at SGS Serbia.
"It is not by accident that we have chosen for the "Danube Soya" Regional Center to be in Vojvodina, with the high quality of its domestic cultivars, good producers and Sojaprotein from Bečej as one of the leading processors of soybeans in the Southeast and Central Europe. The implementation of Danube Soya standards in this factory, as well as in Victoria Logistic, which supplies the raw material, is the role model for other European countries. The success of the Danube Soya Association is due to the connection with our partners and this is why this certification is very important for the further growth of the cultivation and processing of non-GMO soybeans, as well as the promotion of high quality foods for humans and animals, with a safe and controlled origin in the Danube region" - said Marjana Vasiljević from the Danube Soya" Regional Center.
Sojaprotein is the first in the region to receive this certificate for processing NON-GMO soybeans into soy protein concentrates, which are widely used in animal nutrition. In this way, the company has gained yet another competitive advantage in the placement of the high protein concentrates on the most demanding markets in Europe, including Austria, Switzerland and Germany.
"Through all the segments of its business - the organization of agricultural production, the purchase of agricultural commodities and their storage and transport - Victoria Logistic establishes and maintains a quality system to ensure superior raw material for the Sojaprotein factory. The Danube Soya certification guarantees full traceability and quality control beginning from the Serbian soybean fields, through the storage capacities, to the processing of seed or protein concentrates as the final products. The basis for the implementation of the Danube Soya standards was the IP program, which we introduced in 2004 and which was also certified by SGS audit" - said Mirjana Grujić, Monitoring and Quality Control Sector Manager of Victoria Logistic at the certification ceremony.